We've been so busy designing and building school makerspaces with the team at RAFT that we haven't had the chance to run many of our own one-day workshops. So we couldn't have been happier when we got the chance to host a custom workshop for the Piedmont Pioneers (a robotics club taking on the FIRST Tech Challenge) at the end of April. The team approached Project Ember for some team building, skills development (and some fun) during their off-season.
Like any program we run, the day started off with group agreements around safety and teamwork. One day workshops are fast-paced; we only have 6 hours to get up to speed on the tools, come up with our project design, prototype and make any adjustments. Part of today's focus is how to set realistic goals and see the critical path to a finished project.
The workhorses of Project Ember are the chop saw and the drill. Once kids know their way around these two tools, there are nearly endless design possibilities available with just some sticks of lumber and some screws. Collaborators Hannah and Katie talked the team through essential drill safety, such as securing your boards in place with a clamp or a knee and adding power and stability by keeping the second hand on the back of the drill.
Meanwhile, Josh and Christopher taught the rest of the team chop saw safety. Most injuries can be traced back to improper setup, so at camp we use a "Ready" call which allows both the operator and the observers to confirm to one another that everything is safe. It's a way of saying "I'm ready" and "I agree that you are ready, too". We've just added an additional safeguard to this process by installing a momentary power foot pedal. There is no power flowing to the saw until the collaborator monitoring depresses the pedal, eliminating the chances of injury due to poor setup.
On to the Project Announcement! Today, the kids will be designing Shuffleboard Gravity Carts. Our driveway "board" will be labeled with scores from +5 to +100, and all the way down to -100. Within just a few hours, the teams are tasked with creating carts that can steer and brake such that they can accurately stop their cart to score the most points.
We split into three teams. Working with Hannah, we've got Ben, Charlie, Anabel, and Alex. Josh will collaborate with Reily, Sebastien, Jacob, Victor and Jeff, and Christopher's team is Aaron, Henry, Matthew, Gianna and Julia. Key to success today is a saying we often use at camp: slow is steady, steady is fast. With limited time, effective design sessions are essential.
Christopher's group has decided to utilize a combination of wagon wheels and casters for their lounge style cart (complete with a classy backrest). Julia, Gianna and Matthew collaborate on an aesthetically pleasing wheel box with rounded edges to hold the wagon wheels. In order to make these cuts, Christopher conducts safety training on the nimble jig saw.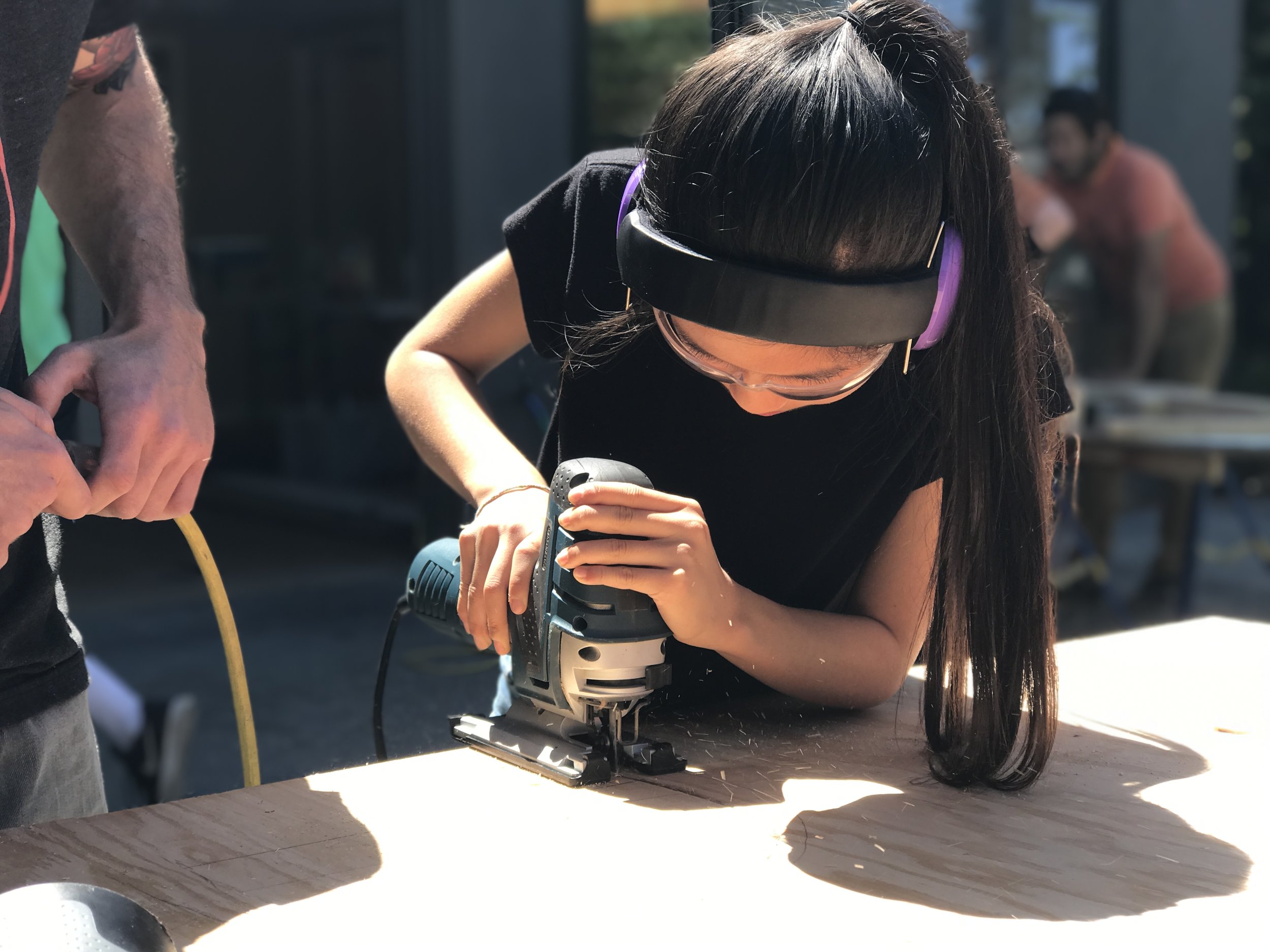 Reily, Sebastien, Victor, Jacob and Jeff have decided to keep their cart simple, with an emphasis on a nice, smooth ride. They design identical front and back wheel boxes, fixed in the back and swiveling in the front for steering. At one point, sheer inspiration strikes Victor and he decides to upcycle the pizza boxes from lunch to give the cart more of a seat cushion.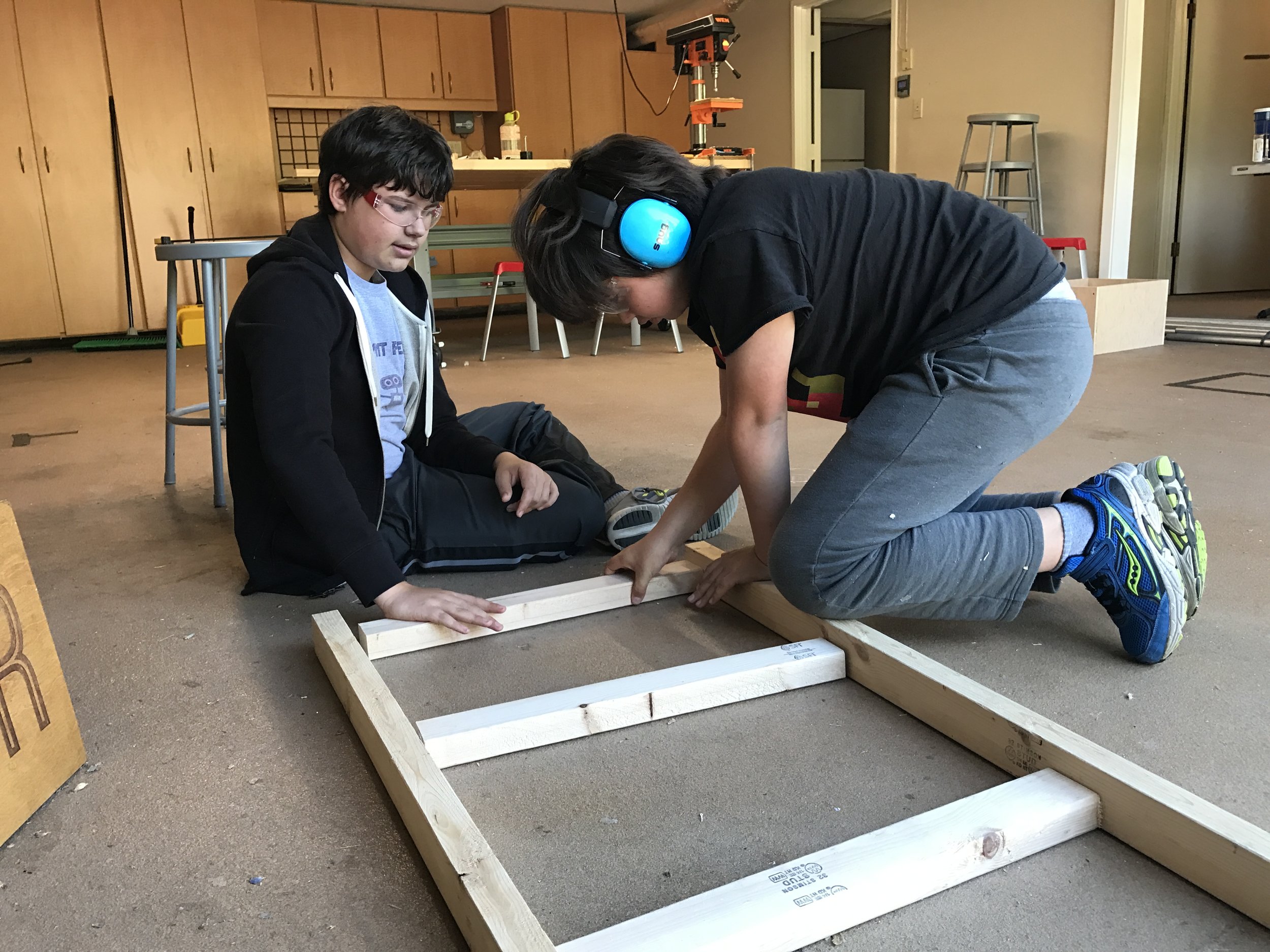 Watching Hannah's team work, one might have mistakenly thought they were focusing on their seat and steering designs before figuring out their frame. However this team took minimalist design to the extremes with a tricycle design; a seat on a wheel and a rotating skateboard wheel box in front to make turns. They make use of some EMT piping to create a steering rod.
As the family demonstration approaches, all the teams try out first rides in their carts. From here, they have just a few minutes left to make any changes before it's showtime.
Tinker, tinker. And that's time. As families arrive, Julia and Gianna draw out our scoreboard in chalk.
All of the carts came out so well, and we saw some super unique ideas attempted with great success. Every camper got a run on the shuffleboard-gravity cart board (we're sorry Matthew had to leave early!), and a few brave parents stepped up to try out their kid's creation. Check out the videos below and head to our vimeo page to see every single ride.
A huge thanks to our host Julia and to Helen for organizing the event. We had an absolute blast working with this group, and must admit, our staff hung out after we cleaned up to ride around in the carts! Congratulations to all the kids on their awesome designs!
This workshop was a custom private event help for the Piedmont Robotics Club. If you would like us to create a custom workshop for your school or organization, please send us an email at info@projectember.org.